This is the kind of technology you'll mostly find only amongst serious gear-heads: the Brass Men, the Steam Knights, the Steel Aspirants, cultists of the Cogwheel Sage, and so on. Universities will often have a few bits of advanced clockwork lying around as well. All this stuff is extremely expensive to build, and usually extremely expensive to maintain, as well.
I haven't bothered with stats for the war machines at this level, because they don't really operate on the same scale as PCs: they're obstacles to be circumvented, not enemies to be beaten down. If it comes to a fight, just assume that they are almost always stronger than you, tougher than you, slower than you, clumsier than you, and very close to overheating.
| | | | | |
| --- | --- | --- | --- | --- |
| | | | | |
| | | | | |
| | | | | |
| | | | | |
| | | | | |
| | | | | |
| | | | | |
| | | | | |
| | | | | |
| | | | | |
| | | | | |
| Wonders of the Ancient World | | | | |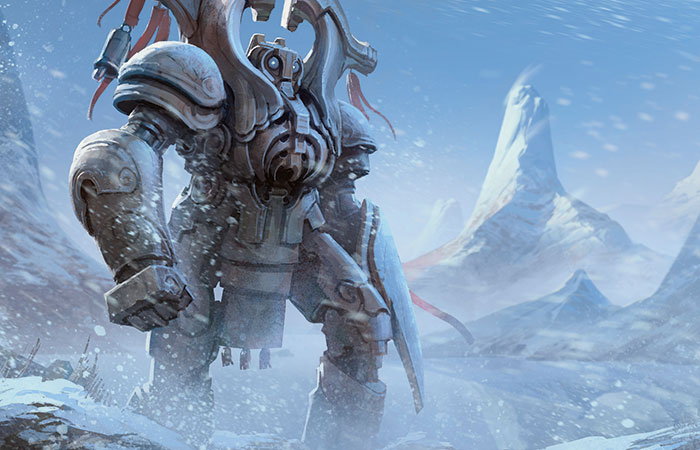 Giant clockwork soldier. Image by Izzy.
Clockwork Beast or Soldier (10', 20', 30'): People sometimes build really, really big mechanical monsters. Most of the truly huge ones are ancient, left over from the unimaginable conflicts of the Age of Wonders, and now either non-operational or reduced to serving as beasts of burden for nomad mechanics who have at least managed to get the legs working again; but it's not entirely unknown for an ambitious king to commission a 10' or 20' clockwork giant or dragon to lay waste his enemies. The only thing more fearsome than their destructive power are their fuel requirements. As with smaller clockwork creatures, instructions must be issued to them in the form of code.
Medium Mech (3-man): A big, boxy robot, 15' tall or so, with a crew of three sitting inside its chest: one controls the legs (one lever in each hand), and the other two control one arm each. Good teamwork is essential if you want your mech to avoid overbalancing and toppling over. Immune to almost everything except cannon fire and tripwires.
Helicopter, from Da Vinci's notebooks.
Gyrocopter:
This is an ultra-lightweight gyrocopter with seats for either one or two passengers (who will have to spend the entire flight pedalling to keep the thing running) and pretty much nothing else. Thrust is provided by a clockwork-powered propeller. Permits smoother flights than the clunky flapping of clockwork wings, and while the pilot will need both hands to steer, the second passenger has both hands free and can fire guns, drop bombs, send messages, carry out emergency in-flight repairs, and so on.
Logician Implants: A mass of clockwork calculating engines installed into the side of the user's skull, allowing them to perform incredible feats of calculation in moments. Logician implants turn their wearers into veritable calculating machines, able to process enormous amounts of numerical data with superhuman speed. Kings and rich merchants usually don't get such implants for themselves - sawing a chunk out of your skull and bolting a clockwork engine box onto it is a pretty radical step - but they love to employ advisers and accountants who have!

(NB: I acknowledge that the idea of interfacing a clockwork computer with a human brain is pretty silly, even by the standards of ATWC. Feel free not to use these if they push your suspension of disbelief too hard.)

Brass Man Brain: The clockwork brains of the Brass Men are miracles of craftsmanship. The Brass Men themselves have an intuitive understanding of how to put them together, and gain a +1 bonus to their technology rating for this purpose only. They are made from tens of thousands of incredibly fine pieces of clockwork, and a whole caravan of Brass Men will often save up for years in order to afford the components needed to create a few more of their kind; the cost of new bodies is virtually insignificant compared to the cost of new clockwork brains. Once finished, these brains are stored in heavily armoured casings, and often survive intact even when the bodies which house them are almost completely destroyed. Tampering with the clockwork of a Brass Man's brain will mess with their memories and personality; if you don't know exactly what you're doing, it'll probably affect them in roughly the same way that a clumsy lobotomy would affect a human.
Large Mech (5-man): Like the medium mech, but even bigger - usually about 20' high, with a cannon mounted on its shoulders. Has two extra crewmen: one gunner to fire the cannon, and one fireman/engineer to feed its insatiable hunger for coal. Almost unstoppable except by heavy cannon-fire. You should probably just run away.
Large Tank (7-man): A big, heavily-armoured metal box on wheels, with a cannon sticking out of
the front (or, more rarely, mounted on the roof) and usually a swivel-gun on each side, crewed by a driver, four gunners, one fireman/engineer, and one all-purpose dogsbody. Invulnerable to pretty much everything except cannon-fire and people pouring oil in through the cooling pipes. In theory they should rule the battlefield; in practise, though, people just ride around them. Useful for spearheading assaults on castles. Don't even try powering it by hand.
Wonders of the Ancient World: This is a catch-all category for the clockwork miracles of earlier ages, created by long-dead artificers and now found only in greater or lesser states of disrepair. It includes things like the Wisdom Engines (giant bronze heads containing clockwork supercomputers, supposedly capable of deducing the answer to any question if given enough time to think) and the God Soldiers (enormous clockwork warriors and mobile fortresses, 100' high or more, capable of wrecking entire cities). The communities that live around such relics often manage to keep some of their simpler sub-systems operational: so a settlement built around the wreck of a God Soldier might lovingly maintain a couple of its weapons systems to defend their homes with. More complex operation and repairs of such wonders can be attempted only by the greatest of artificers.