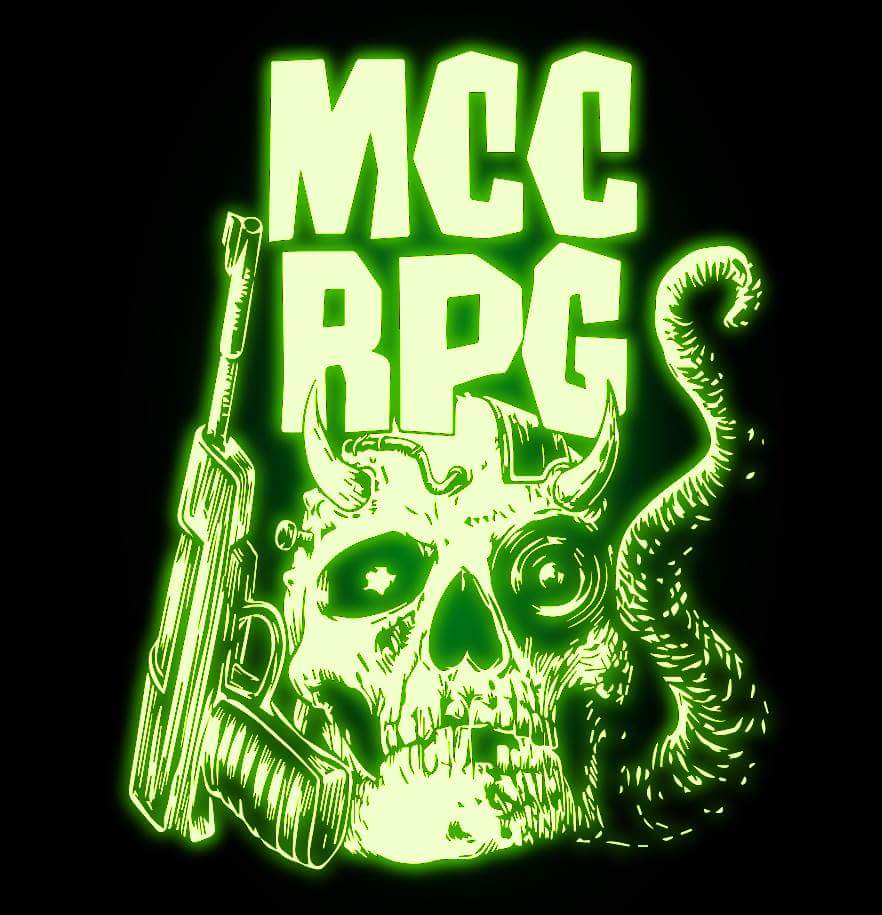 Derek Holland asked for reviews of the adventure modules which were released as Kickstarter rewards for
Mutant Crawl Classics.
So here they are.
All these adventures have good black and white art, with the maps, in particular, being wonderfully embellished with illustrations. They draw on a very similar set of ideas: mutants, robots, ancient computers, and laser guns. Only one of them makes any use of manimals, and none of them use plantients at all, which seems to confirm
the impression I got from the main MCC rulebook
that they were basically just tacked on. (It's a shame: the chance to play a sentient heap of radioactive ivy was one of the things which attracted me to the game in the first place!) All but one of them also features artificial intelligences as NPCs, usually in very prominent roles - so if you want to run all of them then I hope your players enjoy talking to faces on computer screens...
Hive of the Overmind (level 0):
A 0-level character funnel, with a great concept - the PCs are people who have been kidnapped by ant-men and drugged into servitude within their hive, but one day a giant bee attacks and the mental grip of the ant-men weakens enough for them to make their escape into the ancient science complex below! What I like about this one is that there are multiple different ways for the PCs to escape the hive: steal a digging machine from the tunnels, ride to freedom on the backs of giant horseflies, or even use the labs to plug themselves into the hive mind and turn the tables on the antmen, enslaving them in turn! There's also some good stuff with warring robots down in the tunnels and a chance to do the whole you-say-you-are-programmed-to-destroy-all-nonhumans-but-look-you-yourself-are-a-nonhuman-the-incinerator-is-that-way routine, which is always good for a laugh. As a way to start a new campaign, it's way better than being hired to kill some goblins by an old guy in a tavern.
A Fallen Star For All (level 1):
An ancient industrial complex is torn open by a meteor, and now a whole bunch of scavengers are converging on it. It's alright, but sadly most of the rival scavengers just attack on sight, as does virtually everything inside the complex itself. There's a fun bit with a robot nanny called MATRON, and skeletons in containment suits are a classic, but overall you could probably put together something just as good yourself with a few hours work.
Incursion of the Ultradimension (level 2):
This is basically the same set-up as the last one: a crazy AI and a bunch of killer mutants in an ancient science complex. There's some stuff about incursions from another dimension, but the extradimensional creatures are no odder than the local mutants, so all it really means is that you get to 'win' by turning off the portal in the last room. The highlight is probably a chance to make friends with the 7' tall furry warrior-mutants who have evolved from the lab's population of guinea pigs.
Warlords of Atoz (level 3):
This is a Zardoz homage. An army of mounted gunmen are spreading out from a temple, enslaving and exterminating local populations, but the temple turns out to be a giant flying head ruled by an AI which has set itself up as a god. (Sadly, the gunmen don't wear red underpants and thigh-high boots.) The concept is clear and good - infiltrate the temple, kill the boss, try to avoid crashing the flying temple into the ground - but it's very short, and there's just not a whole lot to it. There is an opportunity for your PCs to jump into surgical pods and get random cybernetic implants, though.
Blessings of the Vile Brotherhood (level 4):
This one was written by Harley Stroh, so of course it's the best one. Mutant raiders butcher an order of monks to unearth an ancient warbot beneath it, but then fail to control it and promptly schism over the resulting disaster. It's non-linear, it features memorable set-piece encounters, it's full of factions you can play off against each other, it rewards intelligent problem-solving, and it even features non-suicidal enemies. My one quibble is that it feels rather like a repurposed DCC scenario: its quasi-medieval setting of monasteries, bandits, pilgrimage roads, monks and nuns, and so on is very different to the world of primitive scavengers hiding in the jungle which is presupposed by the other modules. (
Warlords of Atoz
even assumes that the PCs will never have encountered agriculture or horseback riding before!) Even the mutants resemble D&D monsters - one of them's basically an ettin, for example. It's still the best of the bunch, though.
The Apocalypse Ark (level 5):
This adventure is
hardcore.
A genocidal scientist roams the world in her giant mobile laboratory, sending genetically-engineered monsters out into settlements to infect everyone with her artificial plague, while rocking out to a soundtrack played by her robot DJ (who interprets
everything that anyone says to her
as a song request, which would probably be hilarious in actual play). When the PCs and their village are hit, they have to board her lab and search for a cure - but the scientist has psychic ability to project her mind into a new body every time she dies, so if cornered she'll just shoot herself in the head and possess one of her vat-grown murder-mutants, meaning that it'll take more than just violence to defeat her. So the PCs are likely to end up stranded aboard a fortified laboratory crashing through the jungle at high speed, under attack from waves of mutant knife-fighters who keep crawling out of the spawning vats, and hunting a villain who just swaps bodies every time they kill her, all while probably dying of the plague. Luckily, the lab contains some possible allies as well as enemies...
I like a lot of things about this adventure, which confronts the PCs with an extremely challenging central problem, and then gives them lots of possible tools with which to solve it. The mobile lab, with its crew of freaky hyper-specialised mutants, is also a much more interesting adventure location than yet another ancient underground bunker - especially as the PCs are
actually allowed to interact with it as a vehicle,
with the option of smashing its tank treads, crippling its sensor arrays, and so on. Very good stuff overall.